Problema este că statul național pare tot mai mic, lipsit de apărare și neputincios, în fața forțelor uriașe ale globalizării...
În prima decadă a lunii în curs, 7 la 9 septembrie a.c., a avut loc Forumul Economic de la Karpacz – a 30-a ediție, Polonia.
Între invitații din România care au participat la această importantă reuniune politică din Europa de Est, cu participarea unor lideri proeminenți din întreaga lume a fost și Claudiu Târziu, senator și co-președinte al AUR, care a avut amabilitatea să ne remită discursul domniei sale, susținut la întâlnire, spre publicare la The Conservative / Voci Conservatoare. Punem aici şi varianta în limba engleză, inclusiv resursa media video, de limba romȃnă.
Panel / Sesiune: Suveranitate economică în contextul crizei globalizării
Senator Claudiu Târziu, Co-Președinte Partidul AUR, Romania - Erodarea suveranității indusă de globalizare nu e o fatalitate: putem și trebuie să ne opunem
Intervenția mea are două părți: problema (așa cum o văd mulți) și soluția (așa cum o văd eu și alți lideri politici suveraniști – chiar aici în Polonia, de pildă).
1. Problema este că statul național pare tot mai mic, lipsit de apărare și neputincios, în fața forțelor uriașe ale globalizării.
Lupta pentru suveranitate e atât de inegală, încât pare pierdută din start.
Puterea giganților corporatiști globali e atât de mare, încât dominația lor absolută pare inevitabilă.
Dogmele neo-liberale ale liberalizării și de-reglementării impun guvernelor naționale reforme sinucigașe, cu rezultat previzibil: propria suveranitate și controlul asupra politicilor socio-economice și resurselor naționale se reduc până la a fi simple simulacre.
Mitologia globalistă postulează o utopie post-istorică: o planetă de consumatori fericiți și națiuni dizolvate într-o mare "familie" universală, unificată întru prosperitate generală și fraternitate trans-etnică.
Dar realitatea ne arată altceva: "jaf global" în loc de "sat global" (joc de cuvinte în engleză: pillage / village), puțini câștigători, majoritatea perdanți, falii adânci, decalaje crescânde între bogați și săraci.
Statul național a devenit un actor marginal și irelevant în noua ordine mondială, dominată de corporații transnaționale și organisme supranaționale. Pare irezistibilă ofensiva hegemonică a unor mega-companii (Pfizer, AstraZeneca, Lockheed Martin, Huawei...), organizații și instituții economice (FMI, Banca Mondială, Organizația Mondială a Comerțului, UE, OECD, G7, NAFTA, ASEAN). Prin acorduri și condiționalități externe legate de politici monetare, credite și finanțări, elitele economice globale impun națiunilor reglementări, politici publice și legislații ce le avantajează și le promovează interesele. În aceste condiții, suveranitatea devine o glumă.
Hegemonic nu e doar sistemul "noii ordini", ci și discursul neo-liberal, impus ca ideologie economică globală. Universalismul său mesianic ascunde doar un cinic darwinism economic: dominația celor mai tari, mai afluenți și înarmați.
Planeta se micșorează; globalizarea ca proces de unificare a ei într-o comunitate de națiuni e firească. Greșit e doar modul strâmb în care e realizată în beneficiul unei elite și dezavantajul majorității:
Avuția se acumulează tot mai mult la vârful piramidei sociale. În 2018, cei mai bogați 26 oameni din lume dețineau tot atâta avuție cât jumătate din populația globului (3,8 miliarde, cei mai săraci). Numărul de miliardari a crescut de la 157 în 1989 la 2200 în 2019. Averile lor cresc cu 2,5 miliarde dolari pe zi (cu 900 de miliarde doar în 2019). În 2017-2018 a apărut un nou miliardar, la fiecare două zile.
Cei mai bogați 20% din lume au 83% din veniturile mondiale. Această elită globală controlează 80% din comerțul global, 95% din credite, 80% din investiții, consumă 70% din energia mondială, 75% din metale, 85% din lemn, 60% din alimente.
Corporațiile și avuția celor bogați sunt incorect impozitate, povara fiscală căzând disproporționat pe cei ce muncesc. Bogații și corporațiile plătesc procentual impozite mai mici ca oricând. Din taxarea lor vin doar 4 cenți la fiecare dolar din impozite. Super-bogații ascund de Fisc în offshore 7 trilioane dolari.
Majoritatea populației lumii trăiește în sărăcie: două treimi din ea cu sub 10 dolari pe zi, 10% din ea în sărăcie extremă (sub 2 dolari pe zi). 3,4 miliarde de oameni au sub 5 dolari pe zi. Un sfert de miliard de copii nu pot merge la școală.
De globalizare beneficiază doar o minoritate puternică, afluentă, cosmopolită, conectată la fluxurile transnaționale. Pentru restul locuitorilor planetei ea înseamnă doar devalorizarea muncii: faptul că lucrează la firme ce caută piețe de muncă ieftine – sau disponibilizări, șomaj și emigrare. Pentru națiuni, globalizarea înseamnă marginalizare, polarizare extremă, depopulare prin emigrare în masă, declin rural accelerat, alienare, granițe mai permeabile pentru terorism, fluxuri migratorii și de refugiați, dezintegrarea societăților naționale și comunităților locale.
Identitățile naționale se diluează și dispar sub presiunea omogenizantă a culturii globale, mediei, reclamei și divertismentului globalizat, digitalizării, tehnologiilor de comunicații, fluxurilor financiare și comerciale și neoliberalismului impus ca ideologie unică,
Suveranitatea economică nu mai este nici măcar un deziderat politic, termenul însuși devenind tabu. Din ea rămâne doar o ficțiune cu funcție nostalgic-decorativă. Emblema acestei suveranități goale de conținut sunt Parlamentele, cu rol tot mai redus și irelevant în democrații mimate. Acest deficit democratic e vizibil în actualul modus operandi al instituțiilor Uniunii Europene, care nu-i mai reprezintă pe cetățenii europeni, ci doar o pseudo-elită politico-ideologică aservită corectitudinii politice. Consecința e lipsa de legitimitate democratică a Uniunii Europene, căci legitimitatea democratică aparține de drept doar statului național suveran, așa cum afirmă Declarația de la Reykjavik a Conservatorilor europeni.
În Europa de Est, în cursul "tranziției", disparitățile interne au crescut. Trecerea la capitalism, în fostele economii planificate centralizat din Estul Europei, a avut ca rezultat declinul producției și a nivelului de trai, ca urmare a distribuirii monstruos de inegale a veniturilor. Jumătate din săracii emisferei nordice sunt în Europa de Est și fosta URSS, incluzând categorii virtual inexistente înainte (oameni fără casă, cerșetori).
Pentru multe țări est-europene, inclusiv România, globalizarea și tranziția au însemnat dezindustrializare, înstrăinarea pe nimic a activelor și resurselor naturale, sărăcie endemică, colaps societal, infracționalitate și corupție tolerate oficial, declinul clasei de mijloc și al valorilor tradiționale – familie, națiune, credință. Aceste evoluții au avut loc cu complicitatea "elitelor" est-europene, cooptate și cointeresate să trădeze interesul național în favoarea entităților globaliste.
Banca Mondială pledează pentru partneriate public-private (PPP) și privatizare ca alternative la serviciile publice finanțate de stat. Dar Oxfam și alte studii arată că educația, sănătatea și alte servicii publice furnizate privat sau finanțate prin PPP nu sunt variante viabile la cele de stat, ci consumă resurse publice și adâncesc discrepanțele.
Actuala ordine mondială, rezultat al formulei neoliberale de globalizare, e marcată de disfuncții multiple și grave. Noua polarizare nu mai e definită geografic, ci economic. Inechitățile nu cresc doar între țări, ci și în interiorul națiunilor, între elitele branșate la globalism și masele fără șanse. Noul centru e format din elitele trans-naționale, atât globale, cât și din interiorul statelor naționale, care s-au integrat în fluxurile economice și informaționale mondiale. La fel, noua periferie e formată din segmentele neglobalizate, naționale și marginale din aceleași state. Conflictul dintre nucleul globalizat și periferia a cărei mizerie face posibilă afluența primului e ascuns sub o retorică optimist-triumfalistă, a "societății deschise" și "liberalizării", care justifică ideologic practicile distructive, de pradă, ale "centrului".
Deși subiectul nostru este economic, adaug un cuvânt și despre efectele globalizării în plan uman. Prins ca o rotiță în angrenajul tehno-birocratic totalitar global, omul devine masificat, reificat, lobotomizat, aplatizat, anihilat, abolit, interșanjabil: simultan consumator și marfă. Numit "om recent, postmodern, sine minimal, sclav fericit, om-pubelă", noul om globalizat e menit supraviețuirii vegetative, ca un câine mulțumit să doarmă la soare (Fukuyama): o fantoșă mulțumită să existe la nivelul orizontalei comode a platoului (Deleuze). Cât despre Dumnezeu, El fie "a murit" (Hegel 1802), fie este în eclipsă (Martin Buber); oricum, din societate este evacuat. În spațiul public transcendența trebuie interzisă, cultura teofobiei are toleranță zero față de creștini. Încă o hegemonie se manifestă – cea a laicismului. Bătălia pentru suveranitate are și un versant spiritual: bătălia pentru Dumnezeu.
2. Soluția este voința politică de a contracara efectele negative ale globalizării, a afirma suveranitatea și a o redobândi, acolo unde a fost cedată.
Datele Băncii Mondiale, Oxfam, OECD, PNUD și literatura de specialitate arată totuși că inegalitățile interne nu sunt inevitabile și că politicile naționale pot realmente face diferența – pot contracara aceste tendințe sau le pot exacerba. Politicile interne suveraniste le pot inversa. Nedreptatea și decalajele nu sunt un destin ineluctabil, ci o alegere politică.
E nevoie de viziune și voință politică, de angajament și decizie clară de a re-suveraniza statul național.
Trebuie luat taurul de coarne. Eu, ca lider al unui partid politic parlamentar suveranist, am voința fermă de a face acest lucru, când vom fi la guvernare.
Ne vom opune unui superstat federal european și hegemoniei globaliste!
Nici "mâna invizibilă a pieței", nici reglajele "automate" prin "selecție naturală" de tip darwinist, nu rezolvă de la sine problemele și carențele grave ale actualei ordini (de fapt o dezordine calculată), nici nu oferă scenarii pentru ieșirea din criza profundă a sistemului politico-economic mondial.
E nevoie de inteligență și expertiză, planificare și leadership inspirat și patriotic. Acestea există, iar colaborarea între forțele animate de aceeași viziune, europene și nu numai, ne va amplifica eforturile. Rezistența la globarizarea tip "legea junglei" este posibilă. Trebuie doar să vrem. Acest Forum Economic e dovada că această colaborare e posibilă.
Vă mulțumesc!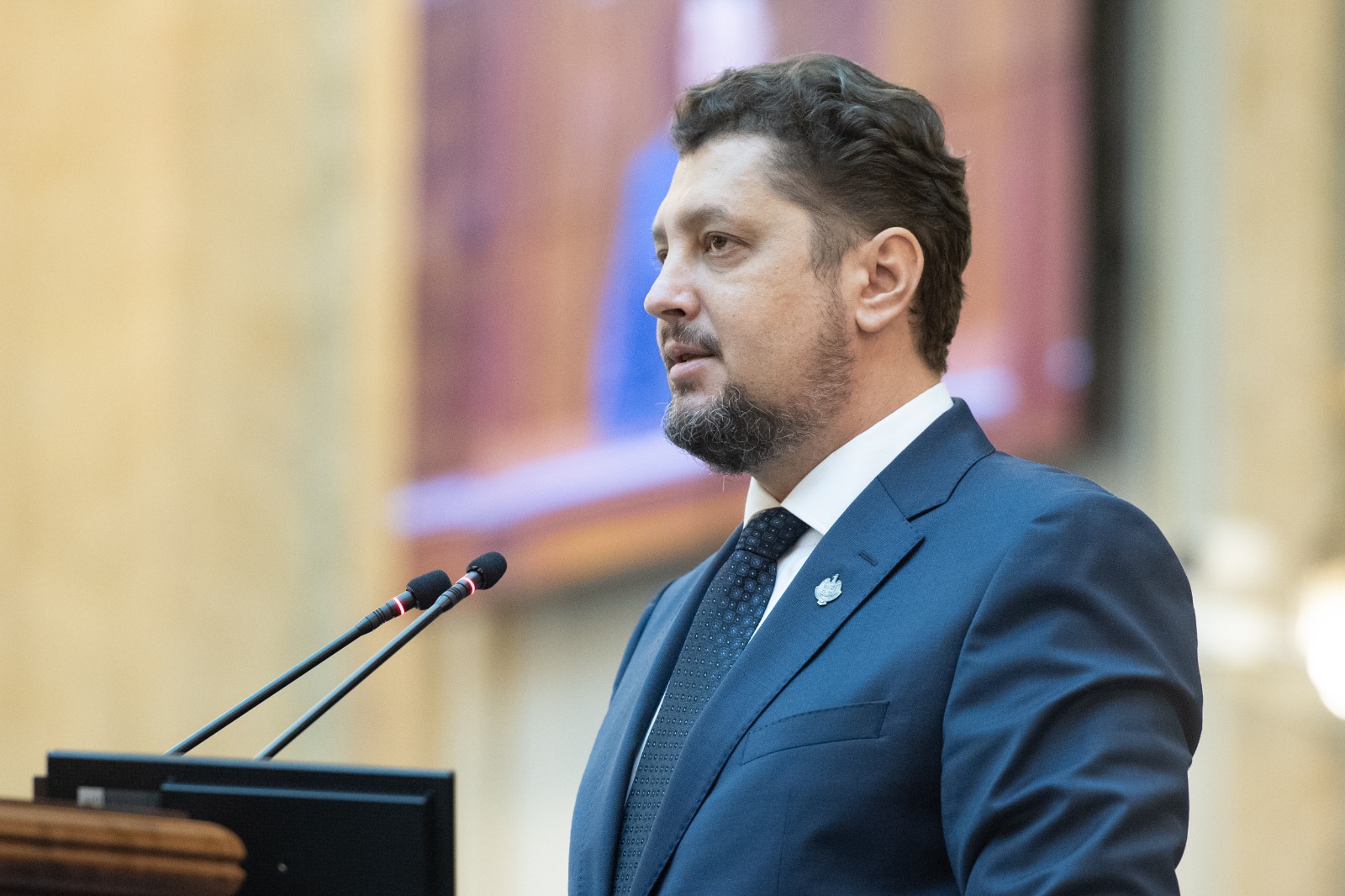 English:
Economic Forum, Karpacz, Poland – 30th Edition; Debate: Eonomic Sovereignty in the Crisis of Globalization
Senator Claudiu TARZIU, Co-President, AUR Party, Romania: Globalization-Induced Erosion of Sovereignty is no Fatality; We Can and Should Oppose It
Your Excellencies, Ladies and Gentlemen, I am honoured to speak in this panel.
My speech has two parts: the problem (as seen by many) and the solution (as seen by me and by other sovereignist political leaders – even here in Poland, for instance).
1. The Problem is that the national state seems to be smaller and smaller, defenseless, unable to resist the huge forces of globalization.
The struggle for sovereignty is so uneven that it seems lost from the start.
The power of global corporate giants is so great that their absolute domination seems inevitable.
The Neo-Liberal dogmas of liberalization and de-regulation impose suicidal reforms on national governments, with predictable results: their own sovereignty and control over socio-economic policies and national resources are reduced to mere simulacra.
Globalist mythology postulates a post-historical utopia: a planet of happy consumers and nations, dissolved into a great universal "family", unified in general prosperity and trans-ethnical brotherhood.
But reality shows us something else: "global pillage" instead of "global village", few winners, a majority of losers, deep rifts, growing gaps between rich and poor.
The national state has become a marginal and irrelevant player in the new world order, dominated by transnational corporations and supranational bodies. The hegemonic offensive of mega-companies (Pfizer, AstraZeneca, Lockheed Martin, Huawei etc.), organizations and economic institutions (IMF, World Bank, World Trade Organization, EU, OECD, G7, NAFTA, ASEAN) seems irresistible. Through external agreements and conditionalities linked to monetary policies, loans and grants, global economic elites impose on nations regulations, public policies and legislation that benefit and promote the elites' own interests. Under these conditions, sovereignty becomes a joke.
Not only the "New Order" system is hegemonic, but also the Neo-Liberal discourse, imposed as a global economic ideology. Its messianic universalism hides a cynical economic Darwinism: the domination of the strongest, most affluent and armed.
The planet is shrinking; globalization, as a process of its unification in a community of nations, is natural. What is wrong is the crooked way in which it is done, for the benefit of an elite and the disadvantage of the majority:
§ Wealth is accumulating more and more at the top of the social pyramid. In 2018, the richest 26 people in the world had as much wealth as half of the world's population (3.8 billion, the poorest). The number of billionaires increased from 157 in 1989 to 2,200 in 2019. Their fortunes grow by 2.5 billion dollars a day (by 900 billion in 2019 alone). In 2017-2018, a new billionaire appeared every two days.
§ The richest 20% of the world have 83% of world revenues. This global elite controls 80% of world trade, 95% of credits, 80% of investments, consumes 70% of world energy, 75% of metals, 85% of wood, 60% of food.
§ Corporations and the wealth of the rich are incorrectly taxed, the tax burden falling disproportionately on those who work. The rich and corporations pay, proportionately, lower taxes than ever before. Only 4 cents for every tax dollar come from their taxation. The super-rich hide offshore 7 trillion dollars from fiscal authorities.
§ Most of the world's population lives in poverty: two thirds of it with less than 10 dollars a day, 10% of it in extreme poverty (less than 2 dollars a day). And 3.4 billion people have less than 5 dollars a day. A quarter of a billion children cannot go to school.
§ Only a strong, affluent, cosmopolitan minority, connected to transnational flows, benefits from globalization. For the rest of the planet, it only means the devaluation of labor: the fact that they work for companies which look for cheap labor markets – or layoffs, unemployment and emigration. For nations, globalization means marginalization, extreme polarization, depopulation through mass emigration, accelerated rural decline, alienation, more permeable borders for terrorism, migratory and refugee flows, the disintegration of national societies and local communities.
§ National identities are diluting and disappearing under the homogenizing pressure of globalized media, culture, advertising and entertainment, digitalization, communication technologies, financial and trade flows, and neoliberalism imposed as a unique ideology.
Economic sovereignty is not even a lip-serviced political desideratum any more, the term itself has become taboo. All that is left of it is a fiction with a nostalgic-decorative function. The emblem of this empty sovereignty are the Parliaments, with only a diminishing and irrelevant role in mimicked democracies.
care nu-i mai reprezintă pe cetățeni, ci doar o pseudo-elită politico-ideologică aservită corectitudinii politice. Consecința e lipsa de legitimitate democratică a Uniunii Europene, căci legitimitatea democratică aparține de drept doar statului național suveran, așa cum afirmă Declarația de la Reykjavik a Conservatorilor Europeni.
This democratic deficit is visible in the current modus operandi of European institutions, which no longer represent the citizens, but only a political-ideological pseudo-elite enslaved to political correctness. The consequence is the lack of democratic legitimacy of the European Union, since democratic legitimacy rightfully belongs only to the sovereign national state, as stated in the Reykjavik Declaration of the European Conservatives.
In Eastern Europe, during "transition", internal disparities have grown deeper. The transition to capitalism, in the Eastern European former centrally planned economies, often resulted in the decline of production and living standards, as a result of the monstrously unequal distribution of income. Half of the poor in the northern hemisphere are in Eastern Europe and the former USSR, including categories virtually non-existent before (homeless people, beggars).
For many Eastern European countries, including Romania, globalization and transition have meant de-industrialization, free alienation of assets and natural resources, mass poverty, societal collapse, officially tolerated crime and endemic corruption, decline of the middle class and strain on traditional values ​​– family, nation, faith. These developments took place with the complicity of Eastern European "elites", co-opted and co-interested in betraying the national interest in favor of globalist entities.
The World Bank advocates for public-private partnerships (PPPs) and privatization as alternatives to state-funded public services. But Oxfam and other studies show that education, health and other public services provided privately or funded by PPPs are not viable state options, but consume public resources and deepen discrepancies.
The current world order – a result of the neoliberal formula of globalization – is marked by multiple and serious dysfunctions. The new polarization is no longer defined geographically, but economically. Inequities are growing not only between countries, but also within nations, between elites connected to globalism and the masses without a chance. The new center consists of transnationalized elites, both global and within national states, which have been integrated into world economic and information flows. Likewise, the new periphery consists of non-globalized, non-transnationalized and marginal segments of the same states. The conflict between the globalized nucleus and the periphery, whose misery makes the affluence of the former possible, is hidden under an optimistic-triumphalist rhetoric of "open society" and "liberalization", which ideologically justifies the destructive, predatory practices of the "center".
Although our topic is economic, I wish to add something about the effects of globalization on a human level. Caught like a wheel in the global totalitarian techno-bureaucratic gear, man becomes massified, reified, lobotomized, flattened, annihilated, abolished, interchangeable: simultaneously a consumer and a commodity. Called "postmodern, recent man, minimal self, happy slave, trash-can man", the new globalized man is meant for vegetative survival, like a dog content to sleep in the sun (Fukuyama): a puppet, a dummy, happy to exist at the comfortable horizontal level of the plateau (Deleuze). As for God, He is either "dead" (Hegel, 1802), or in eclipse (Martin Buber), anyway He was expelled from society. In the public space, transcendence must be forbidden, the culture of theophobia has zero tolerance towards Christians.
Another hegemony is manifesting itself – that of secularism. The battle for sovereignty also has a spiritual side: the battle for God.
2. The solution is the firm political will to counteract domestically the negative effects of globalization, to assert sovereignty and to regain it, where it has been ceded.
Data from the World Bank, Oxfam, OECD, UNDP and the literature show that internal inequalities are not inevitable, and that national policies can really make a difference – can either counteract these trends, or exacerbate them. Sovereignist domestic policies can reverse them. Injustice and gaps are not an inescapable destiny, but a political choice.
It takes vision and political will, commitment and a clear decision to re-sovereignize the nation state.
The bull must be taken by the horns. As leader of a sovereignist parliamentary political Party in Eastern Europe, I have a strong will to do so when we are in power.
We will oppose a European federal superstate, and globalist hegemony.
Neither the "invisible hand of the market", nor the "automatic" adjustments by Darwinist "natural selection", can solve by themselves the serious problems and shortcomings of the current order (in fact, a calculated disorder), nor do they provide valid scenarios for overcoming the deep crisis of the world political and economic system.
It takes intelligence and expertise, good planning, insightful patriotic leadership.
They exist, and the collaboration between forces animated by the same vision, whether at European or wider level, will amplify our efforts.
Resistance to globalization of the "jungle law" type is possible. We must only want it.
This Economic Forum is proof that this collaboration is possible.
Thank you!
Resursa media - intervenție publică la forum: