I sent corrections to an article on Iceland in the online economic journal voxeu. The Editor refused to publish them. ...
Preface
Iceland is a tiny, remote island of which others know little, as I observed in my latest piece in The Conservative. Unsurprisingly, then, the country has been an ideal target for fantasists, fabulists and mythmakers. Jean-Jacques Rousseau wrote for example (in Note P to the Second Part of his Discourse on Inequality) that some of the noble savages from Iceland brought to Denmark to be educated withered away and died, whereas others drowned when they tried to swim back to their country. Friedrich Engels, in a letter to Karl Marx from December 1846, spoke with disdain about the 'greasy' Icelanders who drank fish-oil, lived in earthen huts and broke down if the atmosphere did not reek of rotten fish. Now we have got a modern successor to the old mythmakers, and an Icelander to boot: Thorvaldur Gylfason, Professor of Economics at the University of Iceland. In a recent article in the online journal voxeu, Gylfason made some extraordinary claims about Iceland, some being plainly wrong and slanderous, others being the half-truths that Tennyson called the blackest of lies. I sent some corrections to the Editor of voxeu, Professor Richard Baldwin, but he refused to publish them. I published the corrections in my latest piece here, but below is the Editor's letter of refusal and my response.
The Refusal Letter
Thank you for thinking of Vox. I have decided to pass on your column given the crush of content we are getting. I wonder if your piece might not be better placed at LSE Blogs (https://blogs.lse.ac.uk/), or Project Syndicate, or medium.com,https://worldtradelaw.typepad.com/ielpblog/, or theconversation.com ?
Regards, Richard
My Response
Dear voxeu Editor Richard Baldwin,
Thank you for your message, which I find somewhat surprising. First, I am not sure that you have taken a look at my piece. It is not really a submission to voxeu. It is a simple correction of egregious errors and possibly libelous assertions in an article published in voxeu by Professor Thorvaldur Gylfason, the leader of a political party in Iceland which received less than 2.5 per cent of the votes in 2013 and no parliamentary seats. Secondly, I cannot fathom why you advise me to send my piece to some LSE blog that you mention. My D.Phil. in Politics is from the University of Oxford, not from the LSE, and I have never taught at that school, or had anything to do with it, with all due respect. I have plenty of opportunities to publish my articles in English. I write a regular column for the magazine The Conservative, and I also publish in newspapers like the Wall Street Journal and journals like Econ Watch Journal.
I find it almost beyond belief that you are publishing an assertion to the effect that owners of Icelandic fishing firms have regularly bribed politicians to receive fishing rights in the Icelandic waters, whereas in fact those fishing rights were initially allocated on the basis of catch history, in 1975 in the herring fishery, in 1980 in the capelin fishery and in 1983–4 in the demersal (groundfish) fisheries; since then they have been allocated spontaneously in market transactions between their holders, with the more efficient buying out the less efficient. (If you would need confirmation of this, you could ask the two internationally known experts on the Icelandic fisheries, Professor Ragnar Arnason of the University of Iceland and Professor Rognvaldur Hannesson of the Norwegian Business School.) Incidentally, donations from fishing firms are only a fraction of total donations to political parties in Iceland which are mainly financed by the state and the municipalities. In 2008–2011 for example only about 2.5 per cent of total donations to the Progressive Party came from fishing firms, while this was in this period the highest proportion for any party of donations from fishing firms (the data are on the website of the National Audit Office).
I find Gylfason's claim, published in your journal, that Iceland is becoming a 'failed state' (like some states in Africa and Latin America) outlandish for a country that consistently is measured as one of the richest countries in Europe, the most peaceful one, with the lowest crime rate, with the most even income distribution and with the happiest inhabitants (second after the Finns), even if, needless to say, Icelandic society is by no means perfect. Iceland also unlike many European countries maintains sustainable fisheries, and uses mostly renewable energy. Her recovery from the 2007–9 financial debacle was relatively rapid, and she has managed the covid-19 health crisis better than most European countries. None of this bears the hallmark of a failed state. I have been in contact with two Icelandic voxeu authors, Professors Jon Danielsson and Fridrik Mar Baldursson, and they both agree with me that Gylfason's claim that Iceland is becoming a failed state is unpersuasive and not supported by reliable, independent data. I am cc-ing them as well as your co-editors. As you are obviously unwilling to listen to me, perhaps you can take up the matter with them.
I confess that it is hard for me to take the whole episode seriously, both Gylfason's article in voxeu and your response. Perhaps I should however be grateful to you and voxeu for not having published Gylfason's other outlandish claims of which we in Iceland are aware, such as that Richard Nixon and George H. Walker Bush were somehow involved in the 1963 Kennedy murder. Gylfason has written, for example: 'I know only of three individuals who initially claimed that they did not remember where they were when Kennedy was assassinated in Dallas and who have later contradicted themselves many times over—and who then, it turned out, had all been present at the place of assassination, Dallas: Richard Nixon, Howard Hunt and George H. W. Bush, Nixon having hired the latter two for the White House in 1969. Hunt organised the break-in at the Watergate building which drove Nixon out of office; on his deathbed Hunt confessed to his participation in the Kennedy assassination. Now we have to see whether Bush will also break down on his deathbed. J. Edgar Hoover mentioned George Bush as a CIA employee in 1962, in a memo on the assassination which much later was brought to light, but Bush says that Hoover must have been referring to his namesake.' For those who would not believe me, here is a photo of Gylfason's Facebook page (and it is easy to confirm my translation on Google):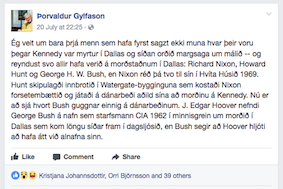 Another of Gylfason's suggestions, insinuations or allegations that fortunately you at voxeu have not published (yet?) is that Tower Seven at the Windows on the World complex in New York could not have fallen as the result of the 2001 terrorist attack. He has written: 'Here it can be seen how Tower 7 collapses seven or eight hours later than the Twin Towers. The official explanation is fire in several places in the building. This has never happened before in a steel structure building.' Again, for those who would not believe me, here is a photo of Gylfason's Facebook page: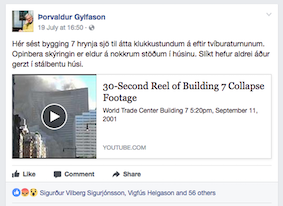 I mentioned the fact, conveniently left out in the note on the author at voxeu, that Gylfason is (or was?) leader of a political party in Iceland which received less than 2.5 per cent in the only parliamentary elections in which it stood. Indeed, in Iceland Gylfason has tried to introduce a new style in politics. For example, he has written on the centre-right Independence Party, which from its foundation in 1929 has been Iceland's largest party, and most of the time in government, and very much an establishment party: 'Members of the Independence Party who talk about democracy make a similar impression on me nowadays as Nazis advertising a gas grill.' When I was close to the leadership of the Independence Party, in 1991–2004, it received around 35–40 per cent of the votes (I served on the Board of the Central Bank in 2001–9). Again, here is a photo to corroborate Gylfason's extraordinary outburst:

Gylfason extends this new style in politics to other countries. He writes about the present Prime Minister of the United Kingdom: 'A choirboy? Well. He was fired as a journalist for malevolent lies, continuing to lie on to the national referendum on Brexit in 2016. Why should he stop? Some people say: let us use the appropriate language, and call a spade a spade, as the Americans say. Shitbag!'
Perhaps you now begin to understand that I am not the only one in Iceland finding it hard to take Gylfason's claims seriously, or indeed this whole episode. But our concern is that people in other countries might do so, and therefore I sent you a short correction, alas unsuccessfully, of the egregious errors and possibly libelous assertions in Gylfason's voxeu piece.
Perhaps I should also point out that a more recent piece in voxeu by Gylfason uses data which originate from himself, as he has been for some reason called on as an expert on social governance in Iceland (not his field at all), helping to construct the Corruption Perception Index of Transparency International, and then quoting it in support of his views. It has been widely noted in Iceland that of the seven components of the Index, the one originating from Gylfason (and one associate of his) has gone down steadily, while other components have remained more or less stable. Here is a graph published recently in an Icelandic newspaper, Development of the Corruption Perception Index for Iceland, the red dots showing changes in the Index without Gylfason's component, the blue line changes in the the Index with his component, and the light grey line showing his component alone. It is clear that it is only Gylfason's own evaluation which makes a difference over the years.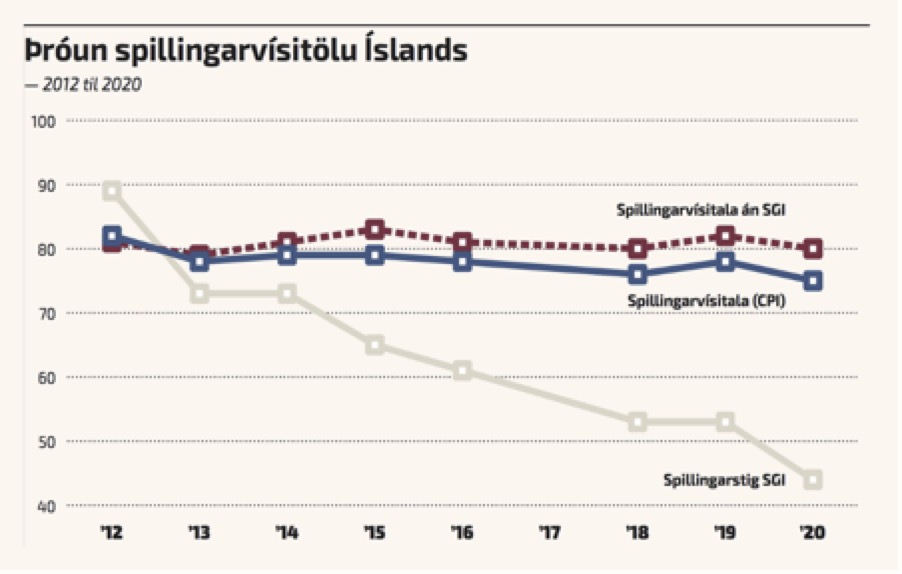 It is also noteworthy that Gylfason's data are totally at odds with the recent conclusions of the Economist Intelligence Unit and indeed several other international agencies or bodies over the last few years. It is also amazing to see a voxeu author using the reluctance of the Icelandic parliament to accept the 2012 recommendations of an appointed committee (the so-called Constitutional Council) as an argument against Icelandic democracy, and leave out the fact that the author himself was a member of this committee, as well as the founder of a party which fought for the adoption of the recommendations and which received, as already pointed out, less than 2.5 per cent of the votes in the 2013 parliamentary. (It is also left out, of course, that the turnout in the 2012 referendum was only 48 per cent.)
Yours sincerely, Hannes H. Gissurarson